As I settle into my chair to write this, my mind and heart is flooded with memories of year past.  Like an intricate jigsaw puzzle, the pieces of my year float together with some sort of energetic glue making them all...well, fit.  They all fit together as they should. I, like many, have a consciousness and direct experience of how difficult this past year has been.  And as I use that word 'difficult' I hesitate at the meaning and the vibration of it, but the reality is, that it has been an enormously challenging year physically, emotionally, spiritually and energetically....
---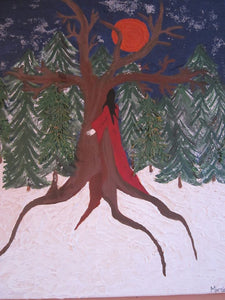 With the arrival of winter, many of us seek comfort, warmth and solace.  While animals are seeking places to lay their heads for the winter, there is a sense of us also, going inward to ourselves and spending time slowing ourselves down. I love the month of December for so many reasons.  Winter Solstice, December  21,  marks the shortest day and the longest night of the year.   For myself, it is a beautiful symbolic marker in the year, warming me to the idea of stepping into the light to be brighter than ever.  It marks a time of the year...
---
When was the last time your feet touched the ground?  I mean, really touched the ground so you could actually feel the vibration of the earth?  When have you felt the morning dew between your toes and let out a big...ahhhh. As children, we naturally want to take our shoes off and run barefoot.  As adults, we subscribe to the social conventions of having to..well...confine our feet and look for the most suitable or the most beautiful footwear.  We confine our feet for everything. But what if we just tried to take our shoes off for things like working in...